ONLINE SHOP
Explore the World of Dilmah
Dilmah in Hospitality and Food service
Integrity & Ethics
Dilmah Tea Inspired
Leisure and Hospitality
Knowledge & Training
Online Shop
Indian tea industry should take leaf out of book of Sri Lankan Tea-vangelist Merrill J Fernando
An article by Reshmi R Dasgupta in Silk Stalkings, published in The Economic Times | The Times of India.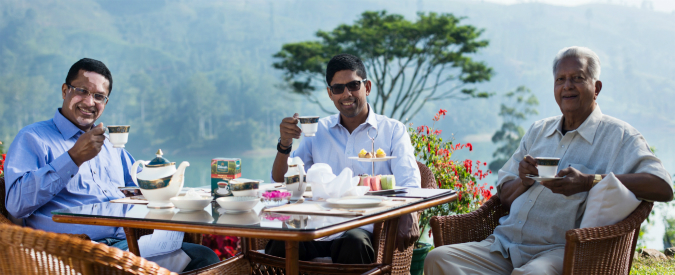 It is a pity that India does not have a tea-vangelist like Merrill J Fernando, the legendary Sri Lankan who established the now-iconic Ceylon brand Dilmah. In New Delhi to open the first ,T-lounge, that his brand already operates successfully in other parts of the world, he must be disappointed that India remains unresponsive to his clarion call to build brands rather than sell cheaply to international aggregators.
He came to ,convert, Indian tea producers to his cause - creating indigenous international brands - for the first time nearly two decades ago. He was hailed then - and now - as a hero by the industry here, but did not find anyone who was willing to follow suit and shift from simply producing and trading to building a brand.
Of course since that visit, Tetley and Typhoo - big names in Britain, the country that brought tea cultivation to India - now belong to desi companies. But can these ever be called or even regarded as desi brands? No more than Jaguar can be called an Indian car. And very few people know about their Indian ownership anyway.
Please click here to read full article in The Economic Times.