ONLINE SHOP
Explore the World of Dilmah
Dilmah in Hospitality and Food service
Integrity & Ethics
Dilmah Tea Inspired
Leisure and Hospitality
Knowledge & Training
Online Shop
Dilmah searches for Ecovation
An article by journalist Duvindi Illankoon published in the Sunday Times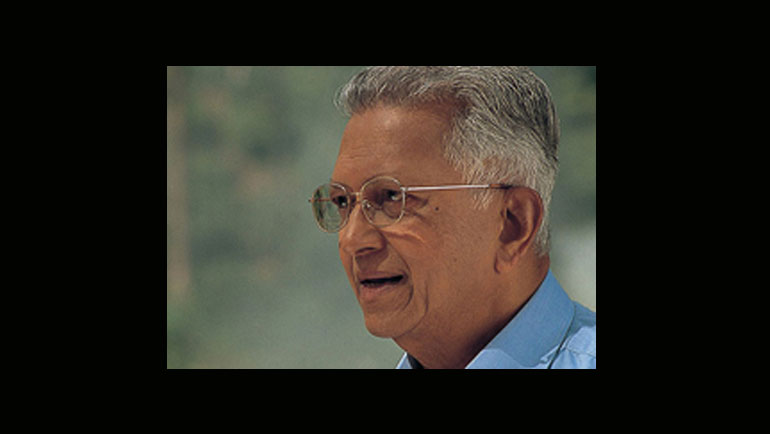 An Article by journalist Duvindi Illankoon published in the Sunday Times
The Merrill J. Fernando Innovation Awards will support and guide Sri Lankan innovators.
Some time ago Dilhan Fernando was at a university, hoping to find a bright young graduate with an idea for an automated tea plucking machine for his family business, Dilmah.
The professor he was talking to rummaged in a metal cupboard behind him — there was indeed a thesis written on an automated tea machine.
Where was this brilliant young graduate? Dilhan queried enthusiastically. Oh he's gone back to farming in his village, replied the professor.
Somewhat sceptical, Dilhan sought out this graduate to find that indeed, he had gone back to traditional village farming, complete with the amude.
"It was in that moment I realised that we needed to do something," explains Dilhan, of the rationale behind Dilmah Conservation's newest initiative. "The capacity to solve problems exists within Sri Lanka, and it's opportunity that is lacking."
There's a much more familar story behind Merrill J. Fernando-Dilhan's father and the powerhouse behind tea brand Dilmah-giving his approval to allocate significant funds for the award scheme.
"I came from a very humble home," says the senior Fernando. "We didn't have much but my mother always taught us to share what we had with others in the village. When I started Dilmah, I knew I wanted to carry that philosophy forward."
Dilmah assists in the education of over 1,400 employees' children, and has seen these children grow up to become successful figures in society.
Fernando says, "Two children recently passed out of university as doctors. They said to me, 'We will treat those that need it free because that's what you did for us'. I realised that Dilhan's idea was something that could carry this forward."
Under the Merrill J. Fernando Innovation Awards scheme Sri Lankan innovators with lack of access to funds and other resources to develop their concept or prototype will be given financial support and guidance, facilitated by Dilmah Conservation. The ideas must provide creative, original solutions to the problems faced by the planet and its people.
The awards are driven towards eco-innovation, or as the hashtag will tell you- 'ecovation'. As a brand Dilmah has sought to establish itself in biodiversity conservation with Dilmah Conservation, thus these awards too will come under several categories with focus on sustainability.
Under the awards scheme, five sectors have been identified; biodiversity, water management, waste management, energy consumption and the Blue Economy.
The biodiversity sector calls for innovative solutions that allow sustainable harvest of biological resources with minimum or no negative impact on the environment.
Under the water management sector innovations that demonstrate safe, efficient and sustainable utilisation of water are sought.
Waste management addresses itself, while the energy consumption category seeks innovations that address areas such as energy efficiency, renewable energy, smart technologies, transmission and distribution.
The Blue economy sector is an unusual category that looks for solutions that help develop innovative business models that imitate organic recycling and upcycling processes in nature, using locally available resources.
All ideas must be "practical, original, replicable and solve a problem that is humanitarian or environmental" says Dilhan. Ideas are accepted in all three languages at the concept or prototype level.
A concept must be a fully-fledged, technically sound plan or idea while a prototype is a first or preliminary entry of a working device. The latter is preferred, of course, and will be rewarded accordingly.
The competition is open to entrants of all ages (even if you're underage, as long as a guardian is named). Winners will be in three categories: an overall winner for prototype (Rs. One Million reward), an overall winner for concept (Rs. 500,000) and sector winners (Rs. 250,000 each).
In addition to financial support they will be provided with legal support in protecting their intellectual property rights, guidance in commercialising their inventions and opportunity to introduce their inventions to investors via Biodiversity Sri Lanka.
The panel of facilitators for the award include Prof Ajith de Alwis, Prof Sarath Kotagama, Dr Sumith Pilapitiya and Shiranee Yasaratne.
Dilmah Conservation is not interested in appropriating the inventions, stresses Dilhan. They will take on a monitoring role, and provide the support mentioned above. "But winners must commercialise the invention without unduly profiting from it," he notes.
"We want these solutions to be made available to a larger audience in Sri Lanka in particular."