ONLINE SHOP
Explore the World of Dilmah
Dilmah in Hospitality and Food service
Integrity & Ethics
Dilmah Tea Inspired
Leisure and Hospitality
Knowledge & Training
Online Shop
Dilmah – School of Tea
An article by Kate Wilkinson published in The Adelaide food central Website.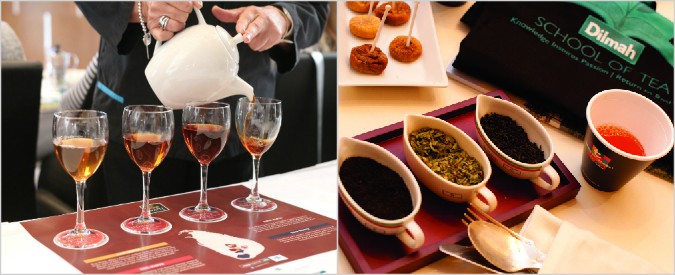 This week Adelaide Food Central went back to school! Tea school that is.
We attended at Adelaide Oval for a 3 hour "Introduction to Tea Inspiration" hosted by Dilmah's enthusiastic director Dilhan C. Fernando. We covered topics such as; History of Tea and Tea Culture, Cultivation, Manufacture and Processing of Tea, How to Brew the Perfect Cup of Tea and Health Benefits of Tea. Our favourite topic was of course, the one in which we got to eat: The Marriage of Tea with Foods. We're all familiar with wine and food paring, beer and food pairing and some spirits such as Gin or Rum can be used to construct a degustation. And now we discover tea and food paring is a thing!
We start with a Beef Slider and a Brilliant Breakfast tea. We are told to sip the tea, have a bite of burger and then another sip of tea. Our aim is to see how the tea draws of the flavour of the meat and cuts through the fattiness. Our next pairing was lightly spiced Szechuan Chicken strips with Earl Grey tea. The bergamot in the tea enhances the piquant chicken flavours complementing the spice. It was a superb match and an eye opening experience.
Moving on to sweets we tasted a Chocolate Fudge Cake with Moroccan Mint tea. We know chocolate and mint is a match made in heaven and indeed this was. I love a cup of peppermint tea but I have never combined it with chocolate. The pairing is so obviously wonderful. We then matched a Baked Apple Pie with Camomile tea. We are told that camomile has some low apple notes and the pie would enhance these notes and bring them to the forefront of the palate.
We finish the session with a Layered Cheesecake of camomile tea sponge layered with blood orange gel and glaze and camomile tea mousse. The purpose was to show how multifunctional tea is and that it can be used in cooking in many ways; tea paired with steak,  tea in salad, tea in cocktails and mocktails, a tea jus with roast meat, tea in desserts. Think Forrest Gump's Bubba talking about shrimp and apply tea.
It was fascinating to learn how food and tea pairings can enhance a meal. I can see tea adding a new dimension to my dinner parties or afternoon teas.  Many of the guests at the tea school were from the hotel and restaurant industry, there to learn how to improve their service of tea and incorporate tea in their menu designs. Having an education on how diverse, enjoyable and beneficial tea is, I think you can expect to see more of this wonderful leaf in your future dining experiences.
Please click here to view the Article in The Adelaide food central